Pre-cut, high quality, stainless steel shims, make alignment of your machines safer and easier. Choose one of our shim cases so that you always have the right shims close to hand.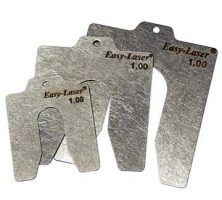 Features
Shims in pre-packed Pelican type cases
Clearly marked thickness slots in case
Refill Case  – Loose shims available in packs of 10
Shims are marked with thickness – quickly identifiable
Small, handy shim cases – easy to transport
Burr free Stainless Steel shims – safe to handle
In the case...
Specifications
In the case...
Case 1. BCD 360. 360 Shims in Pelican case:
Shim types 75x75mm, 100x100mm, 125x125mm
20 of each thickness: 0.05/0.10/0.25/0.50/1.00/2.00
Case weight (complete): kg
Case dimensions: 300×250×140 mm
Case 2. ABC 360. 360 Shims in Pelican case:
Shim types 50x50mm, 75x75mm, 100x100mm
20 of each thickness: 0.05/0.10/0.25/0.50/1.00/2.00
Case weight (complete): kg
Case dimensions: 300×250×140 mm
Case 3. C 190. 190 100mm Shims in Pelican case:
Shim type 100x100mm
20 of each thickness: 0.05/0.10/0.2/0.25/0.50/0.7/1.00/2.00
10 of thickness: 3.00mm
Case weight (complete): kg
Case dimensions: mm
Case 4. D 175. 175 Shims in Pelican Case:
Shim type 125x125mm
20 of each thickness: 0.05/0.10/0.2/0.25/0.50/0.7/1.00
10 of thickness: 2.00
5 of thickness: 3.00
Case weight (complete): kg
Case dimensions: mm
Specifications